Do look at what all the vendors have to offer before purchasing plants. You may find those herbs or beautiful foxgloves at a more reasonable price on the other side of the building.

Do grab a cart or wagon as soon as you see one available. You will be glad you did since you were probably not trained to juggle multiple flats while carrying one gallon buckets.

Do choose the right plants for your site. Know the sun and water requirements as well as the soil type.

Do take time to talk to neighbors or family members you may run into while there. (Great seeing you, sweet Audra!).

Do look for new ideas and visit speciality vendors who may have hard to find plant

varieties.
Don't buy plants just because they are pretty. Check to make sure they have a good root system. Some plants may be too young to plant.

Don't hesitate to ask question. Plant people love to talk plants!

Don't buy more plants than you need just because they are on sale. They will end up dying beside your back porch before you ever find a place for them. I know, I have done this too many times to count. Save your money. Only buy what you have time to plant.

Don't forget to

look in your rearview mirror before backing your car out when leaving. There will be people with carts and wagons everywhere.

Don't buy plants that are root-bound unless you are planning to plant immediately. They will dry out very quickly.
Greenville State Farmers Market
Greenville, SC
All above photos are Beth Fortune's.
* * * * * * * * * * * * * *
Getting ideas for your spring plantings now.
After a long winter, most of us are so anxious to get outside and plant that we run to the nearest garden center and become overwhelmed by the choices.
Whether you are a planner or a fly-by-the-seat-of-your-pants kind of person, it helps to have a few ideas running through your mind before you arrive at your favorite nursery or garden center where color abounds.
Here's a tip for you . . .
Start making a list in the summer months.
Look around and see what plants
catch your eye,
withstand heat,
are showy even in the hot summer.
What do you see that
dazzles,
pops,
or makes you say WOW?
Here are a few that have caught my attention this summer. . .
'White Marble' Caladium and 'Natchez' Crape Myrtle in back
'Pink Beauty' Caladium with Japanese fern on the left
Rudbeckia Daisy - an all time favorite
'Black & Blue' Sage in front of White Hydrangeas
While you are making your list, look around your garden and yard and see which plants are thriving and which aren't. For those plants that are just not making it, you can decide to try again or move on to a new plant.
Make a trip back to your favorite garden center or nursery. I like to go in the middle of the summer and stand and see what plants are showing off. It's a great time to pick out new perennials while they are in bloom.
Enjoy your garden and yard, but also be on the lookout and begin planning for spring. It's only eight months away, but then who's counting~
All above photos are Beth Fortune's.
* * * * * * * * * * * * * *
Petunias to Pansies
Transitioning from summer to fall.
Petunias to pansies, geraniums to mums, zinnas to ornamental cabbage and kale . . . yes, it's time to make the transition from summer to fall.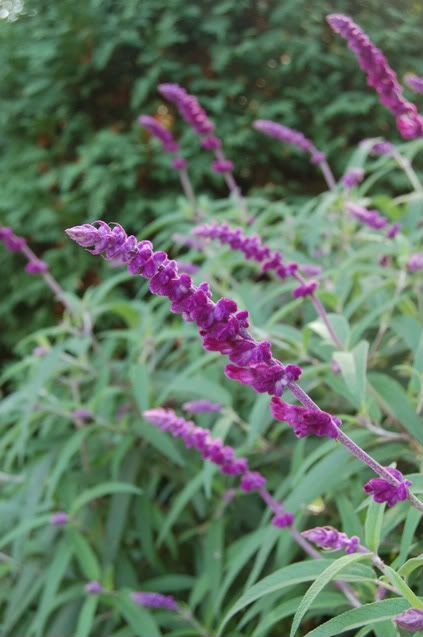 Mexican Sage
photo courtesy of photobucket.com
Along with the annuals I mention below for fall planting, it's a great time to plant perennials as well as divide and move them. It's also the best time to plant shrubs and trees.
Coral bells

Euphorbia

Ivy

Sedum

Mexican Sage

Ornamental peppers

Coneflowers

Verbena

Grasses

Herbs – Italian Leaf parsley, rosemary, sage, thyme
Shrubs to plant now for color next year:
Speaking of shrubs, I like to use them in containers and add seasonal plants. Containers are great for porches, patios, decks or to fill outdoor spaces in your yard or flower beds that are usually overflowing with summer color. This time of year add pansies, violas, herbs, mums, coral bells, cabbage or kale to fill in around bottom of container.
Photo by Beth Fortune.
Here are some of the shrubs I use:
Blue pt. juniper

Sky pencil Jap. Holly

Cypress

Golden euonymus

Boxwoods

Arborvitae

Japanese Holly

Yew
Photo by Beth Fortune.
And while you are planting your container, plant a surprise: tuck in some spring blooming bulbs, small blooming daffodils, hyacinths, snowflake to bloom in the early spring.
Enjoy this time of the year as you transition from summer to fall. Whatever you plant, the cool night temperatures and warm sunny days are the right combination for vibrant colors in your garden and containers.
But most of all, HAVE FUN!
* * * * * * * * * * * * * *
Most people put all their efforts and money into gardening in the spring, but fall is really the best time. Why?
Humidity gone

Bugs give up

Weeds slow down

Cool nights bring vibrant colors

And for a gardener, once again we can't wait to get back outside.
So now that fall is here, let's get outside. Need some ideas for fall color?
photo courtesy of photobucket.com

Annuals: Don't give up on summer annuals. With cool temps, they will show off again and their color will be more vibrant than ever. The plants listed below will last until frost and many stores will have a small selection of annuals available in the fall if you want to add more to your garden or containers.
Petunias

Begonias

Marigolds

Lantana

Geraniums

Gerber Daisies

Cosmos

Million Bells

Dianthus
Along with these summer annuals add:
Pansies – larger than violas and need more sun. They have larger blooms and need to be fed frequently. They can be used in flower beds or containers and can take the frost. Give them an hour or so in the warm sun and they will perk right up.

Violas – smaller than pansies. Can be bushier in shape and will re-seed. The more sun and food they get, the more they will bloom.

Snapdragons – available in a wide range of sizes and color. Will bloom off and on throughout winter and into spring. Prefer sunny location and need slightly moist, well-prepared soil for good drainage. Striking when combined with kales, cabbages, and mustard or behind pansies or violas.

Mums – Select plants that are full of buds and not quite open. They need to be watered regularly and placed in a sunny spot.

Vegetables – Select from the below list and don't limit them to the kitchen, they are beautiful in flower beds and containers with pansies, violas and snapdragons.
Lettuce

Kale

Cabbage

Mustard

Swiss Chard

Collards
Herbs: Don't limit them to the kitchen either.
Parsley

Rosemary

Thyme

Sage
Enjoy!
* * * * * * * * * * * * * *
Never Too Late
photo courtesy of photobucket.com
It's August and it's hot. Are you beginning to notice which flowers you planted this spring are showing out and which ones aren't? You may have tried a couple of new annuals this year in your beds and they may not be enjoying the sun or the heat. But . . . it is not too late to run to your local nursery and replace those non-preforming plants.
Replacing:
First of all, don't throw them out. I have found out many times that these plants just don't like being in beds but do great in containers.
Dig them up with plenty of soil around them and plant them in a container with drainage.
Cut back and trim if needed.
Water well after planting and wait a week or so to fertilize.
Best time to transplant is early morning or evening.
Suggestions for full sun show:
Angelonia – "Summer Snapdragon"
Lantana
Salvia – both annuals and perennials
Gaura – "Butterfly Flower"
Geraniums
Sweet Potato Vines
Verbena
Coreopsis
Redbeckia
Petunia – Waves and Supertunia ®
It's never too late to add to your garden.
Most of all . . . don't be afraid to try something new.
photos courtesy of photobucket.com
* * * * * * * * * * * * * *
Watering . . . sounds so easy. Select a water source, turn water on, drench plants, turn water off. Task complete.
Not that easy.
So what's the best way to water during these hot summer days? Follow these easy tips and you will have more success with your plants, whether growing them in the ground, in outdoor containers, or indoor containers.
Water deeply. Don't just throw some water on the plant and container and be done. You need to water deeply so the water will saturate the soil. This allows the soil to get completely wet. This also helps the roots grow stronger as they follow the moisture down to the bottom of the container.
Check soil moisture. Don't assume your plant needs watering just because you are in the mood to water or it's the only time you will have to water. If the soil is moist, and the particular plant likes to dry out between waterings, you may loose the plant. This leads me to the next tip.
Know your plants. Different plants have different moisture needs. Some like to be on the dry side, some on the moist side, some like to dry out completely between waterings while others don't like to become dry at all.
Water in the mornings if at all possible. Plant roots are more receptive to take up water in the mornings. Evening waterings can leave moisture on the leaves over night which can cause disease like mildew. But . . . if your plants need water in the evenings, don't ignore them. Just be careful as you water.
Water the soil, not the leaves. Again, water on the leaves can sometimes cause unwanted diseases.
Photo by Beth Fortune.
Once is not always enough. Ever watered and it seems the water is running right through the container? Well, that is exactly what is happening. The soil can get so dry that the water runs right down the side of the pot. A plant needs to be watered slowly and then watered again so the soil can absorb the moisture.
Add mulch, this will help hold in the moisture. Even using some moss around the top of indoor containers can help keep moisture in soil. In the hot summer months, this is a very good way of keeping moisture in soil, whether in the ground or container.
* * * * * * * * * * * * * *
Using what you have . . . and being creative.
For me, part of the fun of gardening is being creative. Not only with plants, but with containers. A couple of years ago I acquired an old red Radio Flyer wagon and have used it for many different plants. I plant it for either a sunny or shady location during the summer months and during the fall and winter, I have it full of pansies with either coral bells or Rosemary. The uses of rosemary . . . that will be for a future post.
Photo by Beth Fortune.
This was last years sunny recipe:
Spike Speedwell (Veronica) in the center
Red Salvia
Yellow Highlight Zinnias
Profusion White Hybrid Zinnias
Trailing White Vinca
The year before I planted it for a shady deck using:
White caldiums
Kimberly Queen ferns
White Impatiens
Variegated Ivy
Selecting white as a dominate color in a container is a great idea, especially on a porch or at the entrance to a door. At night it shows up beautifully. Matter of fact, it's good to use white in your flower beds too. There's nothing like walking outside at night and being greeted by a subtle glow reflecting the light of the moon.
* * * * * * * * * * * * * *
April 15th . . . here at last,
and now it's time to plant, plant, plant.
Need an idea to get you started? Try this combination that's both showy and colorful.
Plant Recipe:
Red Geranium
Yellow Zinnia
Nemesia
Variegated Ivy
Design tips:
Include --
Thriller - something tall and/or striking for effect (1)
Filler -- something to fill in (2 and 3)
Spiller -- something to trail over the side (4)
I used this combination for a door basket, but it can be used in any container. Make sure you have at least 5 hours of sun daily for flowers to bloom.
ENJOY!